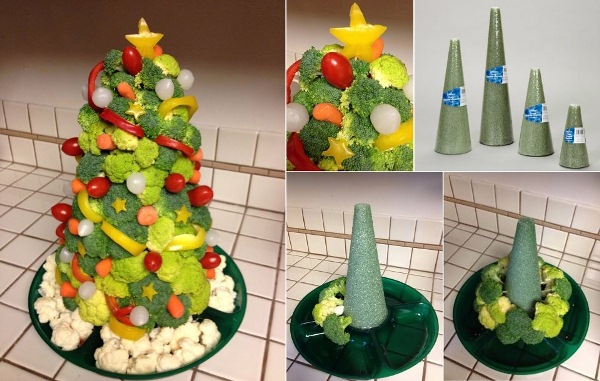 Do you want to have a unique vegetable platter for a holiday party or for Christmas Eve? Here we have another amazing culinary idea. After "Fruit Christmas Tree", is time learn how to make a Veggie Christmas Tree. It is not difficult to do, because we show you all what you need to make the most beautiful platter to enjoy with your guests.
What You Need
For this project, you will need some craft items and plenty of fresh veggies.
Use 8″x3″ green styrofoam cone, for a just over 12″ tall finished tree, so the shopping lists will work for this size tree. If you want a smaller or larger tree, just adjust your groceries accordingly.
Craft Items:
– Styrofoam cone – 8×3″
– small disposable veggied tray (you will be hot glueing the tree to the tray, so plastic, disposable works best BUT you could forego the glue and just set the tree on a nice dish, too)
– hot glue gun & glue sticks (optional)
– round toothpicks
– round wooden skewers
– Linzer tart cookie cutter (for tiny star shape cutter)
– wire cutter or strong scissor (to cut skewers)
Grocery List:
– 3 large bunches Broccoli
– 2 large Broccoliflower
– 1 large Cauliflower
– 1+ Red Bell Pepper (depending if you would like to serve extra on the side)
– 1+ Yellow Bell Pepper (depending if you would like to serve extra on the side)
– 1 package cherry tomato
– 1 jar cocktail onions
– 1 bag of baby carrots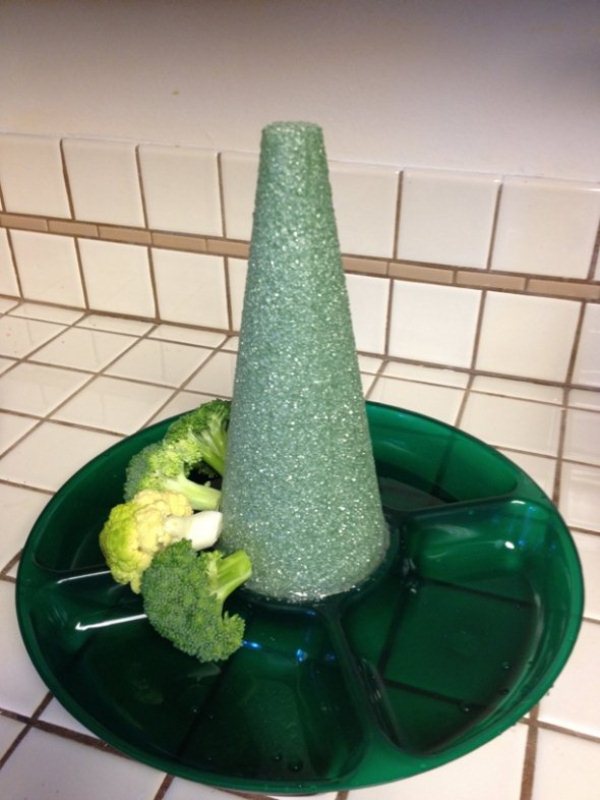 Veggie Tree Assembly
STEP 1 – Hot glue your styrofoam cone to your plastictray (optional). This makes a stable base andmakes transportation very easy.
STEP 2 – Cut your Broccoli, Cauliflower and Broccoliflower into dipping sized pieces. Sizes should vary but shouldn't be too large or too small.
STEP 3 – Attach your Broccoli and Broccoliflower to the cone with ROUND toothpicks, grouped in clusters, with larger pieces at the bottom and graduating up to the top. Don't worry if there are small holes in your design, they will be filled in later with carrots and other decorations.
When you get to the top, and toothpicks are not long enough cut skewers with a wire cutter or strong scissor to pick your veggies into place until you achieve a perfect tree shape.
STEP 4 – Cut 1 red pepper and 1 yellow pepper into dipping size strips. Tuck the ends of those strips into the tree, in a spiral, starting at the top and spiraling down to the bottom. Tuck a carrot in next to them to hold them in if needed. No toothpicks needed, here.
STEP 5 – Poke carrot sticks intermittenly in holes between the broccili and broccoliflower florets. No toothpicks needed.
STEP 6 – Use FLAT toothpicks to secure cherry tomatoes and cocktail onions to the tree. Poke small side all the way through onion or tomato. Press tomato or onion into tree.
STEP 7 – Cut out stars with small linzer tart cookie cutter from 1 Yellow pepper. Save 1 large piece to hand cut 1 larger star for top, or make a paper stencil or use a larger cookie cutter if you'd like for large star.
Secure stars with toothpicks poked and secured right in broccili pieces.
STEP 8 – Fill tray base with cauliflower.
STEP 9 – Serve with your favorite veggie dip or refrigerate until serving. If it doesn't fit in your refridgerator, I have had good luck leaving it out on the counter overnight when the house wasn't too hot. I spritz it with water and cover with saran wrap and it still looks completely fresh the next day!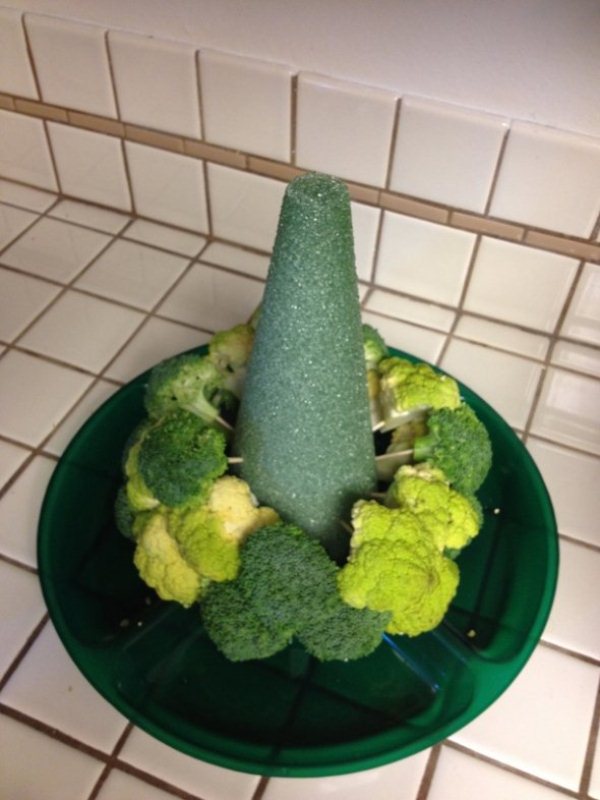 Toothpicks and Sticks on Amazon
Flat Wood Toothpicks — These are for veggies that you want to tightly affix without stabbing our finger. The rounded end can be pushed on withoug scewering your finger!  Buy now
Bakers & Chefs Round Toothpicks – 4/800ct — The quintessential all-purpose toothpick. Buy now
Fox Run Brands Bamboo Skewers, 6-Inch — These will come in handy at the top of your christmas tree, where you need a longer pick to reach the peak of your tree. You will need a wire cutter to cut them down to size. Buy now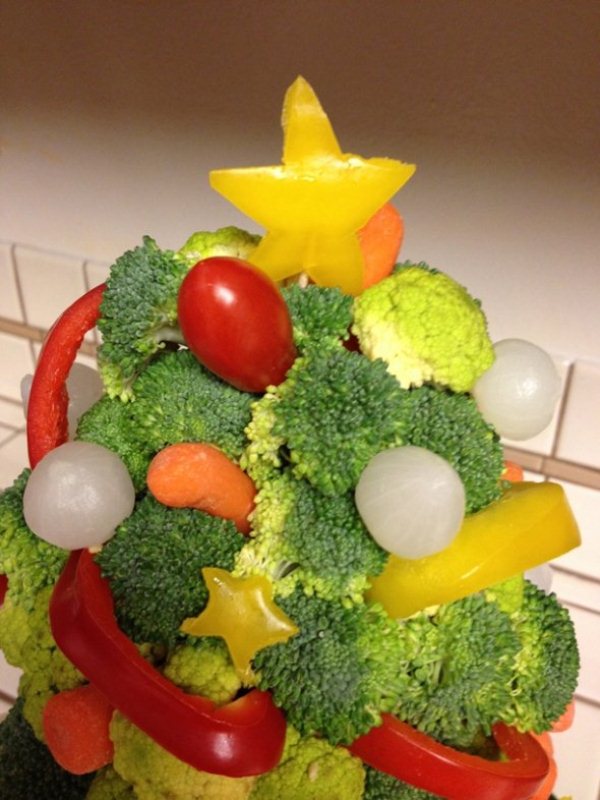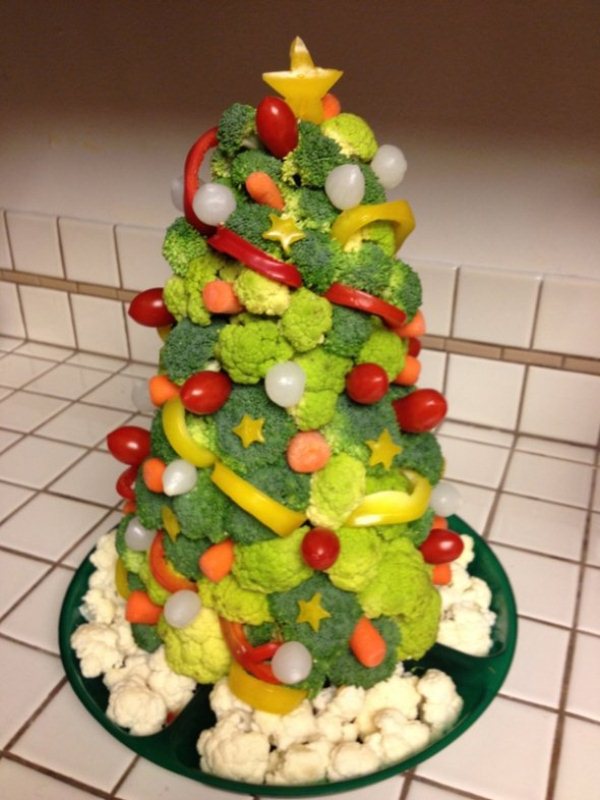 Plastic Veggie Trays on Amazon
Black Plastic Compartment Serving Tray 12-inch —  Buy now !!!